United Way of Charlotte County is proud to partner with Sarasota, DeSoto and Manatee counties in the regional effort to promote reading proficiency for children through the Suncoast Campaign for Grade-Level Reading.

---
Communities that support the Campaign for Grade-Level Reading understand that an educated community means a stronger future for everyone. It means a community where more people are prepared for higher education, to enter the military or to enter civilian service. United Way of Charlotte County is convening local organizations, businesses, and people to focus on the following areas: 
School Readiness:  As early as 18 months, children can begin vocabulary development and other skills critical for school success.
School Attendance:  Attending school regularly is essential to skills students need to succeed.
Summer Learning:  Reading achievement in the summer will progress toward 3rd grade reading proficiency.
Parent Success:  Parents play the most powerful role in their children's lives.
Health Determinants:  Learning begins at birth and healthy development greatly impacts children's ability to learn.
Our efforts are strengthened with regional support from The Patterson Foundation.
Click here for more information on the Suncoast Campaign for Grade-Level Reading.
You can financially support the Charlotte County Campaign for Grade-Level Reading by donating here.
---
School Readiness

Kindergarten Readiness Bags
The 2022 assembly and distribution of Kindergarten Readiness Bags was a success! 51 volunteers made it happen and we are so grateful.
Nearly 1,200 free resource bags were distributed to preschool-age students in Charlotte County. Photos of the event and more details are available here.
Parents and caregivers:  To learn how to best use the items in your bag, check out this video.
If you are interested in volunteering for 2023 Kindergarten Readiness Bags, email Jen at admin@unitedwayccfl.org.
Lizzy the Literacy Bus

Lizzy the Literacy Bus, a project of the Leadership Charlotte Class of 2019, serves all kids Kindergarten through 6th grade in Charlotte County. Kids are allowed to go onto the mobile book bus, explore the options, and select a book to keep for themselves. Donations of new children's books can be dropped off at the United Way office in Port Charlotte.
More information on this amazing local project can be found here.
New Worlds Reading

The New Worlds Reading Initiative is a FREE Florida literacy program that will:
Mail a new book to each eligible enrolled K-5 grade student in Florida each month for free

Help students build a personalized library based on their interests

Provide families with practical, supporting materials that build reading confidence

Reinforce the science of reading techniques used by highly trained reading teachers

Support each student to successfully launch their reading skills and develop a love of reading
Click here to see if your child is eligible and register.
---
Attendance
Attendance Awareness Poster Contest
Attending school regularly is essential for students to gain the academic and social skills they need to succeed. Chronic absenteeism leaves third graders unable to read proficiently, sixth graders struggling with coursework, and high school students off track for graduation.
This year, the Attendance Awareness Poster Contest was held in Charlotte, DeSoto, Manatee, and Sarasota county public schools. Since the inaugural Attendance Awareness Poster Contest in 2015, nearly 200,000 posters have been created by students about the importance of outstanding attendance.
---
Summer Learning
Suncoast Summer Reading Challenge & THIS BOOK IS COOL!
Research shows that children who do not read during the summer can lose up to three months of reading progress. That loss has a

cumulative, long-term effect. Reading just six books at the appropriate reading level can prevent the "summer slide" and keep a struggling reader from regressing. In response, the Suncoast Campaign for Grade-Level Reading sponsors the Suncoast Summer Reading Challenge and THIS BOOK IS COOL! to encourage each participating student to read!
These programs helped make an impact on Charlotte County students, reducing the impacts of the summer slide and the COVID-19 pandemic.
The Suncoast Campaign for Grade-Level Reading provides 20 books for each registered child, links for THIS BOOK IS COOL! webisodes about the selected books and activities, word games corresponding to the selected books and five virtual engagement events.
---
Family Engagement
Suncoast Remake Learning Days - 2022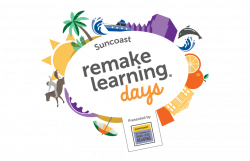 Suncoast Remake Learning Days, a 10-day free regional learning festival, concluded on Saturday, May 7th.
Suncoast Remake Learning Days built on the assets and strengths of our region, reinforcing the knowledge that Learning Happens Everywhere and affirming that we are working together toward greater outcomes for our children and families. One hundred sixty-five organizations came together to offer more than 140 free, fun, and engaging events for families in Charlotte, DeSoto, Manatee, and Sarasota counties.
United Way of Charlotte County participated in a collaborative event at the Family Services Center in Port Charlotte. This Mexican-themed event took place on May 5 (Cinco de Mayo). Families were offered the opportunity to learn about Mexican culture, food, language, and agriculture in an engaging format. Thanks to the generosity of The Patterson Foundation, these multi-generational hands-on learning experiences were robust, free, accessible, and open to the public.
This event will return April 21 - April 30, 2023 -- mark your calendars!

---
Are you a parent or caregiver looking to inspire a love of reading in your home?
Check out these resources:
Read-Aloud Game:  It Happened to Me
Read-Aloud Game:  Story in the Round
Read-Aloud Game:  A Picture is Worth 1,000 Words
Charlotte County Imagination Library - After registering, your child will receive a free book in the mail every month until his/her fifth birthday.
Vroom - Vroom provides science-based tips and tools to inspire families to turn shared, everyday moments into Brain Building Moments®.