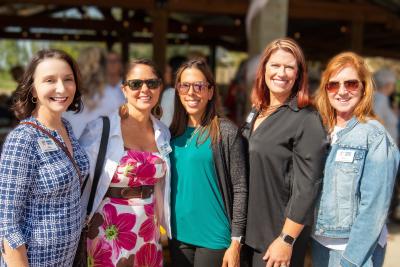 Leading the Charge. Inspiring the Change.
Women United focuses on women's initiatives to build a stronger community in Charlotte County, Florida. Together, we can create lasting change on a scale that no single individual or organization could achieve on their own.
Women United is open to all women interested in sharing their talents and passion. Our participants are women of all ages, backgrounds and career paths who offer their time, talent and treasure in a way that meets their individual philanthropic needs.
Women United mobilizes women who strengthen our community by investing in and promoting programs that positively impact our community's children, families, and future. Members engage with one another and participate in events and volunteer projects to learn, share, and grow.
---
Why Women United?
Learn about critical issues impacting women and their children in our community
Be a part of a community of like-minded women who contribute their personal passions, best ideas, and unique strengths to the mission of empowering women
Network, collaborate, and form new partnerships with area women while working together to enhance the lives of others
Volunteer alongside others looking to create significant, long-lasting positive change for women and children in Charlotte County
With administrative support from United Way of Charlotte County and through a collaboration of community partnerships, this group of women is able to make a measurable impact in our community.
---
  Our Mission...
  EMPOWERING the women of Charlotte County in the areas of education, financial stability, and wellness.
  2023 Platform: Empowering Mothers to Raise Healthy Children
This is done through assisting the Kids Thrive Circle of Parents peer support group, women who are raising children exposed to early childhood trauma. By surrounding themselves with like-minded women, these mothers are setting themselves and their children up for success through the ups and downs of life's journey. To read more about Kids Thrive, click here.
For more information about membership and program sponsorships, contact Dawn Forlini at info@unitedwayccfl.org.