Circle of Parents is a peer support group of the Kids Thrive! Community Collaboration.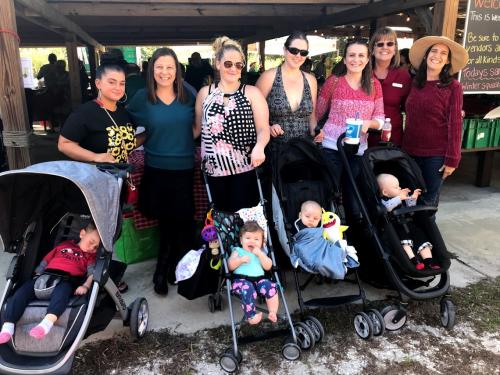 The Circle of Parents is part of the Kids Thrive! program in Charlotte County. This peer support group meets regularly (in person and virtually) to support each other in making healthy life choices for themselves and their families. Group activities have included a book circle, play dates at the park, and trips to Worden Farm (and sharing the creative ways each family used the fresh, organic vegetables they received there!).
Jim Rohn once said, "You're the average of the five people you spend most of your time with." By surrounding themselves with five (or more) like-minded women, these ladies are setting themselves up for success through the ups and downs of life's journey.
To aid them on their individual and collective journeys, United Way of Charlotte County's Women United group has made their the Circle of Parents their platform for 2020 (and beyond). Women United members are actively working to Empower Mothers to Raise Healthy Children. In 2020, Women United members donated diapers and baby wipes as well as other much needed household items during the height of the COVID-19 pandemic. They held a virtual cooking demonstration for the Kids Thrive! moms to answer questions and provide their favorite tips and tricks for healthy eating with kids. And they released a cookbook in January 2021 that is dedicated to these same moms.
---
On Sale Now  -  Limited Edition Women United Cookbook!
Get your limited edition cookbook for a $15.00 donation per cookbook. Click here to order yours today! 
Knowing how important family meals are for encouraging bonding and building memories, Women United collaborated on a cookbook of their favorite family recipes dedicated to our Kids Thrive mothers.
This book contains special thoughts, notes and quotes from women for women and their families. Included are over 75 recipes for breakfast, side dishes, seafood, main course, desserts and snacks. Also included are some of our holiday favorites.
Thank you to our Women United members, sponsors and cookbook sponsors. This project would not be possible without Panther Hollow Dental Lodge and WrightWay Emergency Services!