Change is bigger than a single organization or program. We bring together people, organizations, and resources to amplify impact. At United Way of Charlotte County, we provide opportunities for you to give help and get help.
MISSION:  Mobilizing the power of our community to break the cycle of poverty.
EDUCATIONAL SUCCESS
Strategic Plan 2019-2022 Goals
Promote the success of all children from birth through pre-kindergarten with early literacy and developmental resources.

Ensure all third grade students read at or above grade-level.

Identify parental needs to encourage healthy families and positive parenting.
Devin began attending the YMCA of Southwest Florida's School Age Care program in the 1st grade. He could not sound out letters or read sight words. Devin didn't even score at a preschool level for early reading skills.
YMCA staff connected with his teacher, school liaison, and his parents to work together to help Devin.
In a few months, the extra support paid off - Devin was reading at grade-level and on target to advance into 2nd grade.
Data points for October 2020-September 2021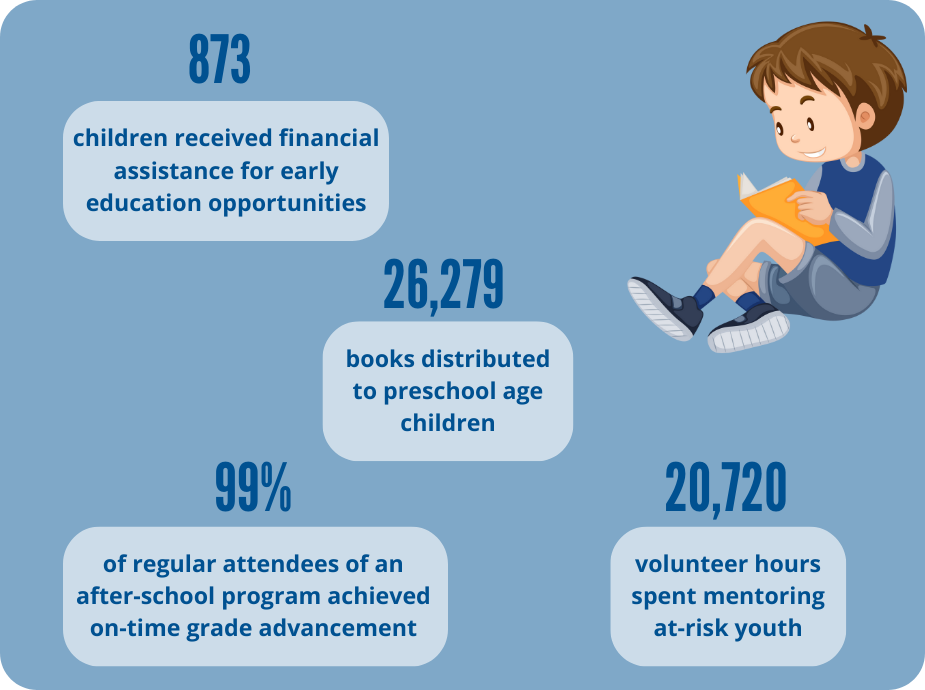 FINANCIAL STABILITY
Strategic Plan 2019-2022 Goals
Increase family access to financial stability skill sets and resources.

Increase senior access to financial stability resources.

Decrease number of chronic and vulnerable homeless individuals.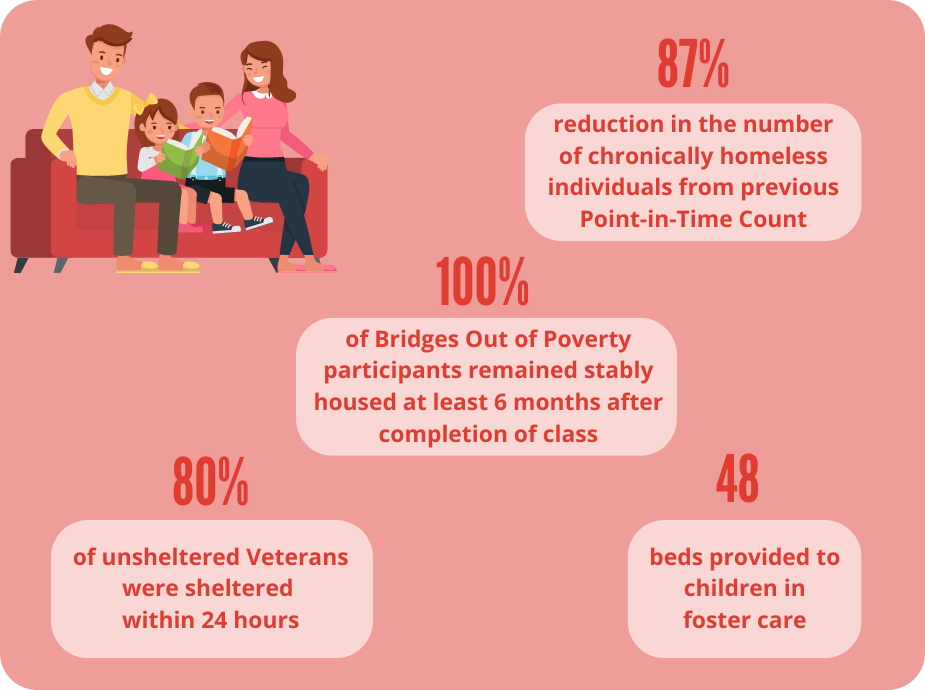 "Prior to this program [Bridges Out of Poverty] I was lacking significant knowledge about poverty and resources to seek out when needed.
I was living paycheck to paycheck while wasting my money. I have a savings account now and put money into it every payday. In a few months to a year I plan to be in my new home with my children creating memories."
Data points for October 2020-September 2021
HEALTH AND WELLNESS
Strategic Plan 2019-2022 Goals
Improve mental, physical, and behavioral health for vulnerable families and seniors.

Ensure vulnerable families and seniors establish and maintain a nutritional foundation for long-term health and wellness.
"I was 26 years old, and just beginning to face the challenges of marriage, parenthood, and career changes. Denise from Healthy Families took the time to get to know me, my situation, and my family. She encouraged me and helped me to set goals.
With Denise's help, I have worked on parenting, my education, and my career.
Not only has Denise helped me be the best parent I can be, she is now a lifelong friend and an extension of our family."
Data points for October 2020-September 2021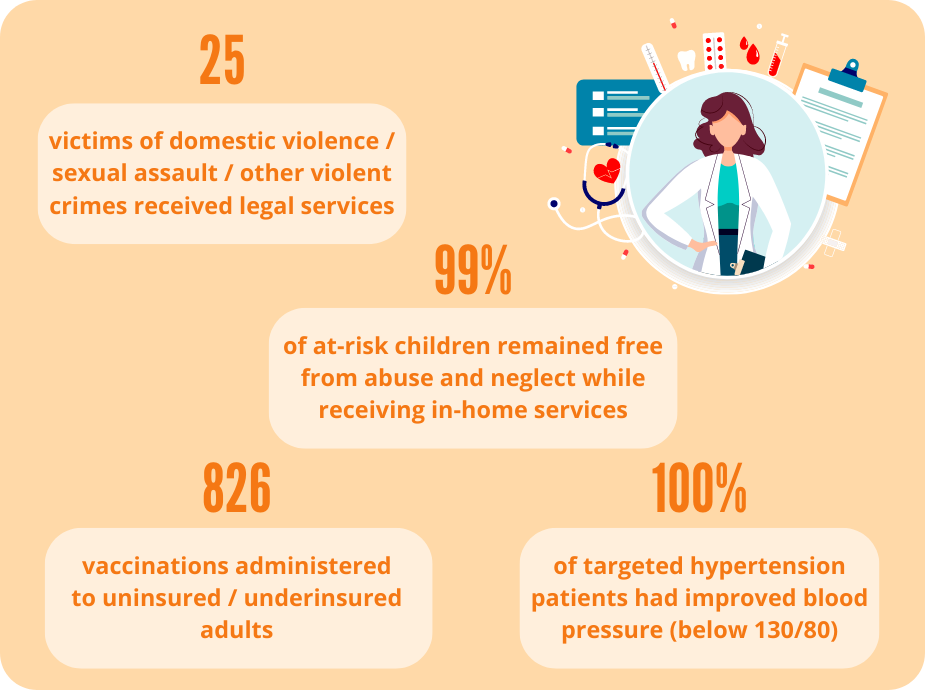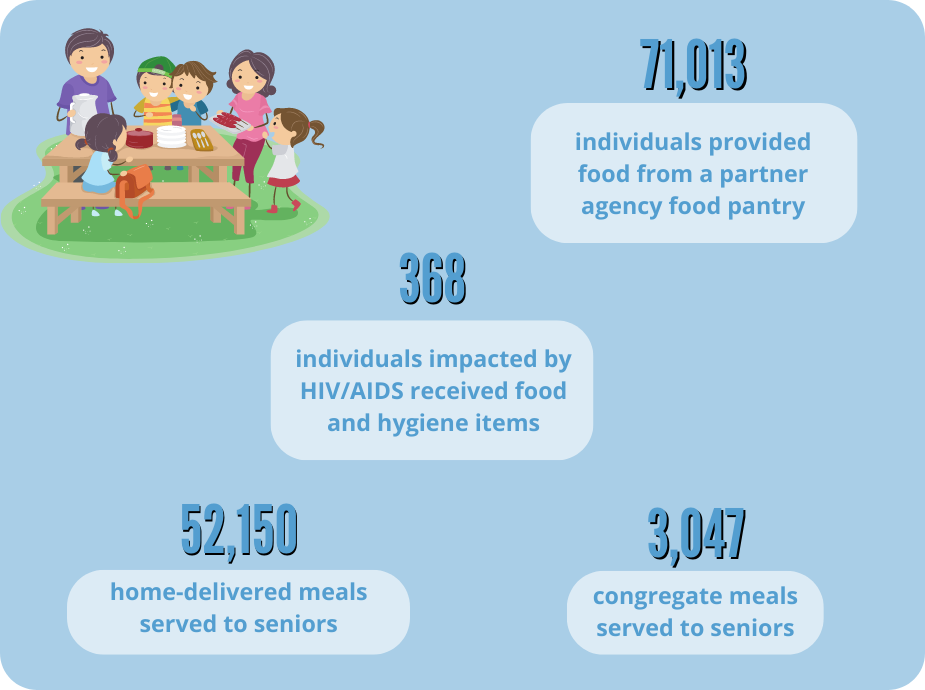 Senior Friendship Centers offers meals to seniors in their homes, but encourages socialization through in-person dining sites. Paula had been absent from the dining hall due to physical limitations and staff took notice.
A power wheelchair was located and revamped to meet Paula's needs.
The wheelchair was outfitted with a basket and a bow and was a welcomed surprise the next time Paula was able to attend the dining site. Since that day, Paula has participated as a diner frequently, rekindled friendships, and resumed a well-rounded social life.
Data points for October 2020-September 2021
Charlotte County Campaign for Grade-Level Reading

The Campaign focuses on the five pillars for success in helping children reach the goal of reading on grade level by third grade.
Data points are for Fiscal Year 2020-2021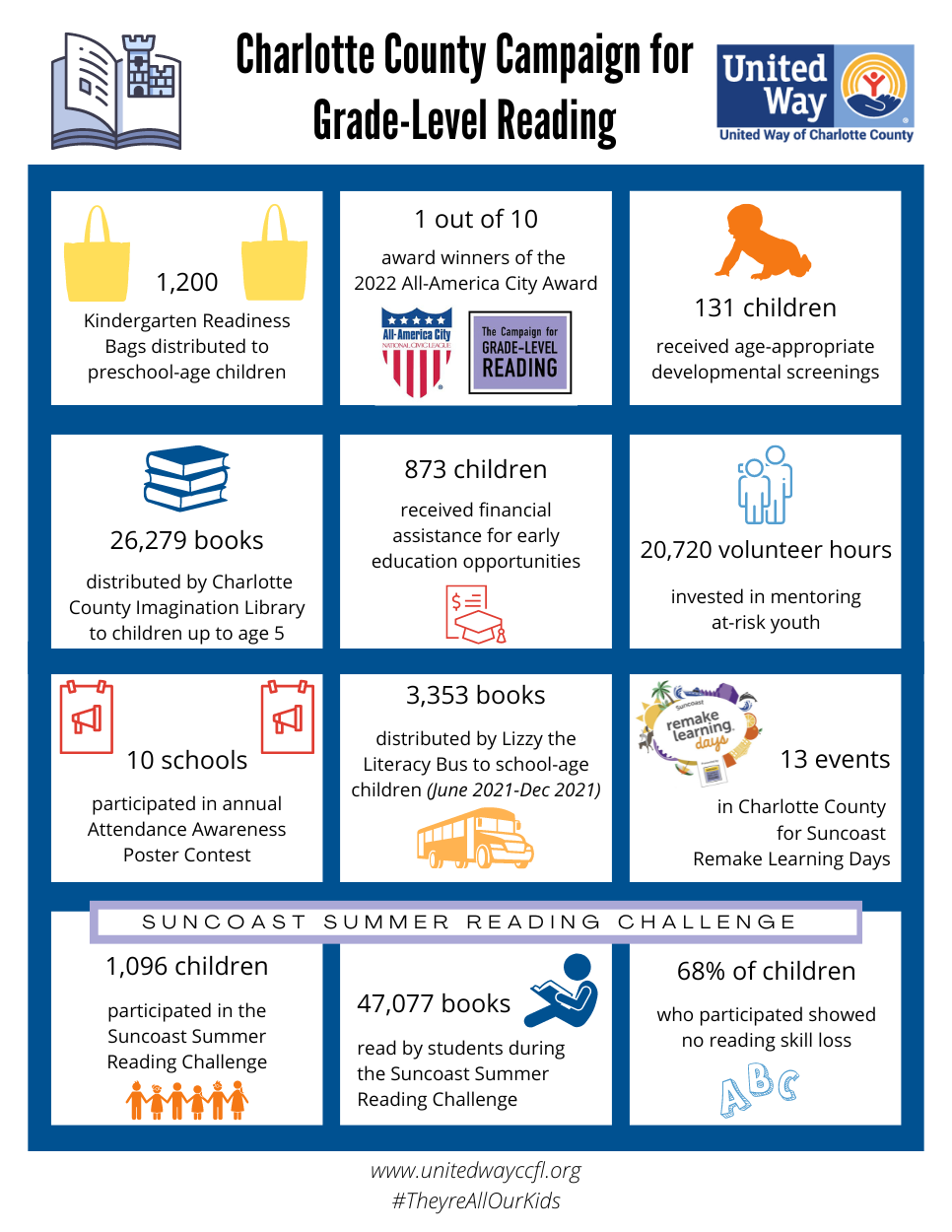 Community Collaborations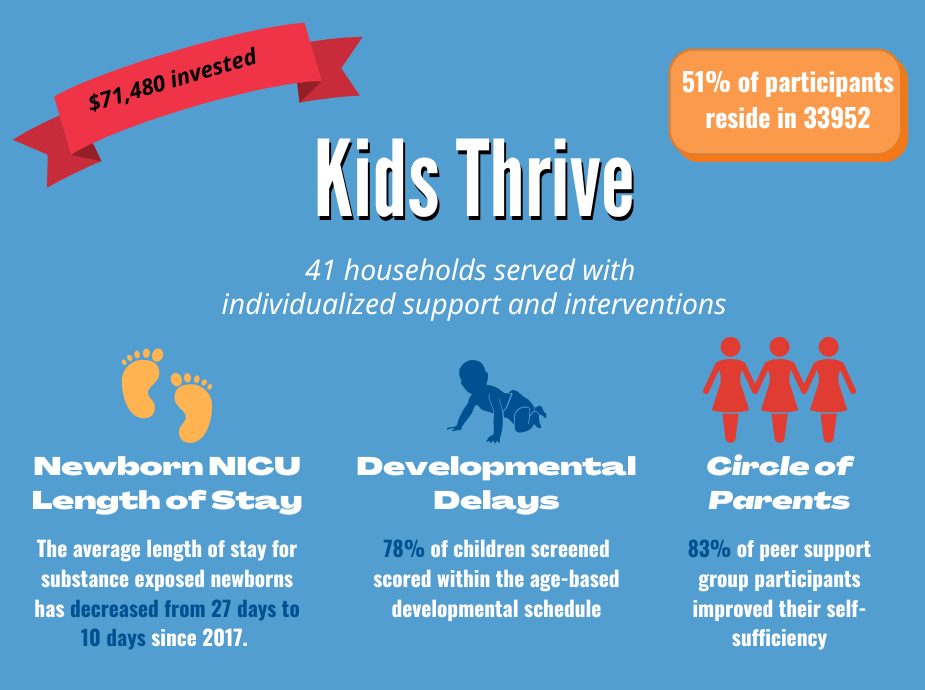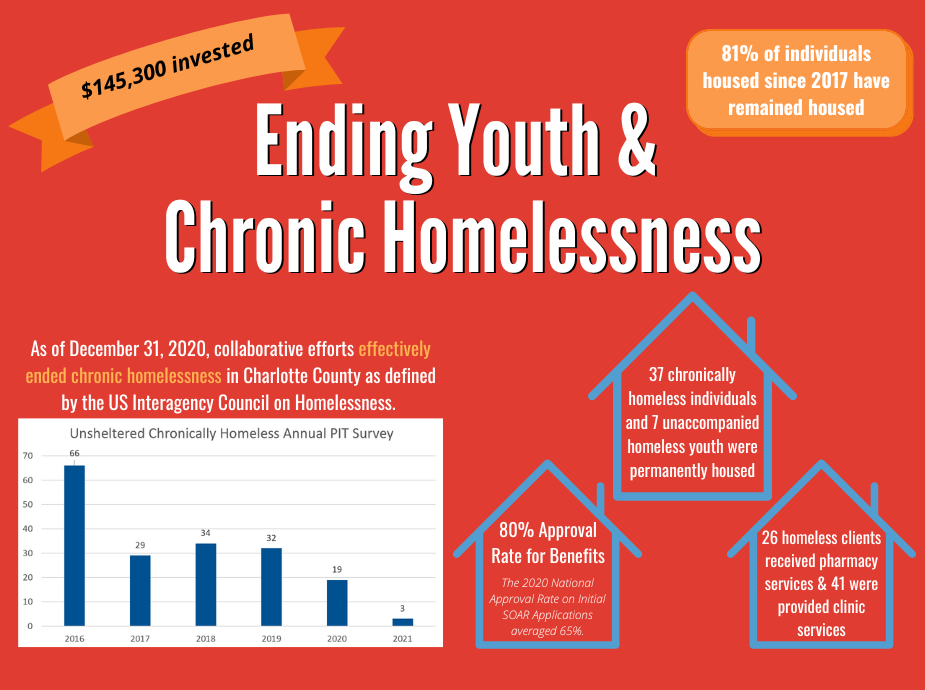 Volunteer Income Tax Assistance
VITA serves low- and mid-income tax payers who might otherwise struggle to afford the costs associated with filing their income taxes. In Charlotte County, Florida 10% of households live at or below the Federal Poverty Level and another 30% of households are just above the Federal Poverty Level, still struggling to meet their basic needs.
31 volunteers provided 2,573 hours of their time to serve our community for Tax Season 2022.
In 2022, the adjusted gross income of the clients served was $26,233. A $300+ tax preparation fee could keep an individual from buying groceries or needed medications that month.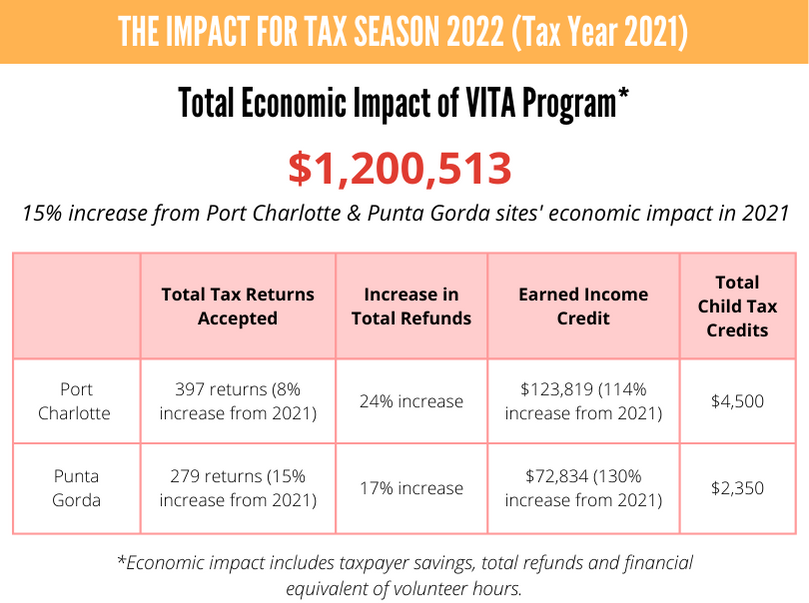 Season of Sharing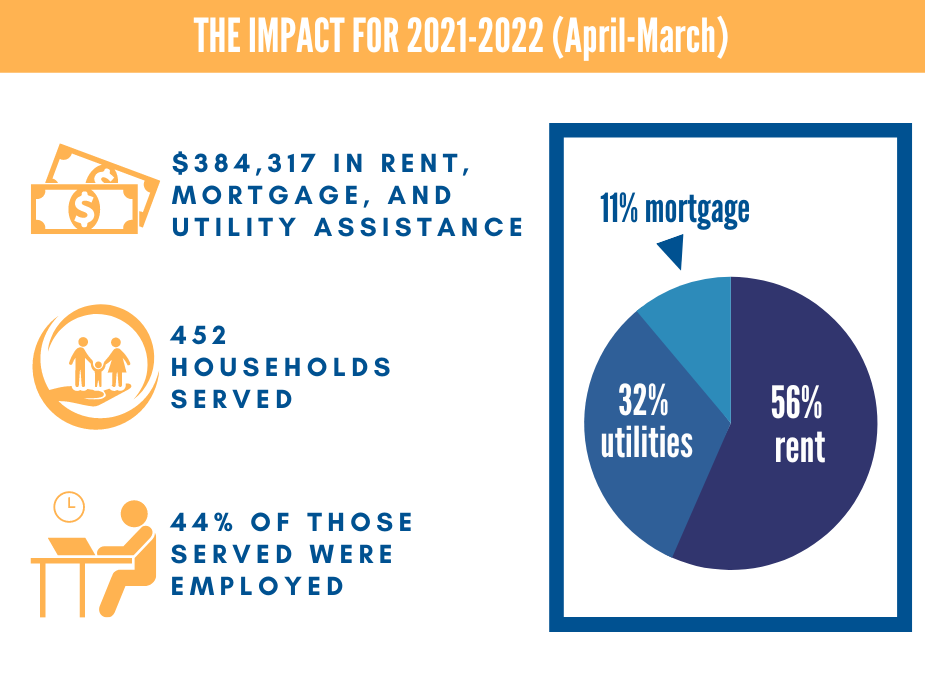 Inflation*, the ongoing pandemic, and the lack of affordable housing have disrupted the monthly budgets of many Charlotte County households. Rising costs coupled with a bump in the road (car trouble, health problems, or unexpected job loss) can turn a financially stable situation into one that is paycheck-to-paycheck.
Households in these situations benefit from the support of their community, standing in the gap to help them through their rough season. This support can can provide hope for a brighter tomorrow.
*As of June 2022, there had been a 9.1% increase in consumer prices from the previous year.