You Can Help, One Can at a Time
By Angie Matthiessen, Executive Director - United Way of Charlotte County
Hunger. I remember as a child, there were times growing up that I was hungry. There were many complex factors around how this happened, but the experience of food insecurity stays with me. When your grocery shopping, do you think of the families in our communities who go without meals to make ends meet? It's a devastating reality to think food is a basic need not all can afford. Did you know, right now, thousands of Charlotte County residents are going hungry to pay other bills? It is an unacceptable scenario. No child should question where their next meal is coming from or if it will come at all.  
If you have ever wondered if you can help, here is your chance. Your donation to a food drive or a local non-profit could mean one less child goes to bed or school hungry.  An opportunity to give is coming up soon, thanks to some wonderful women in our communities working to make a difference.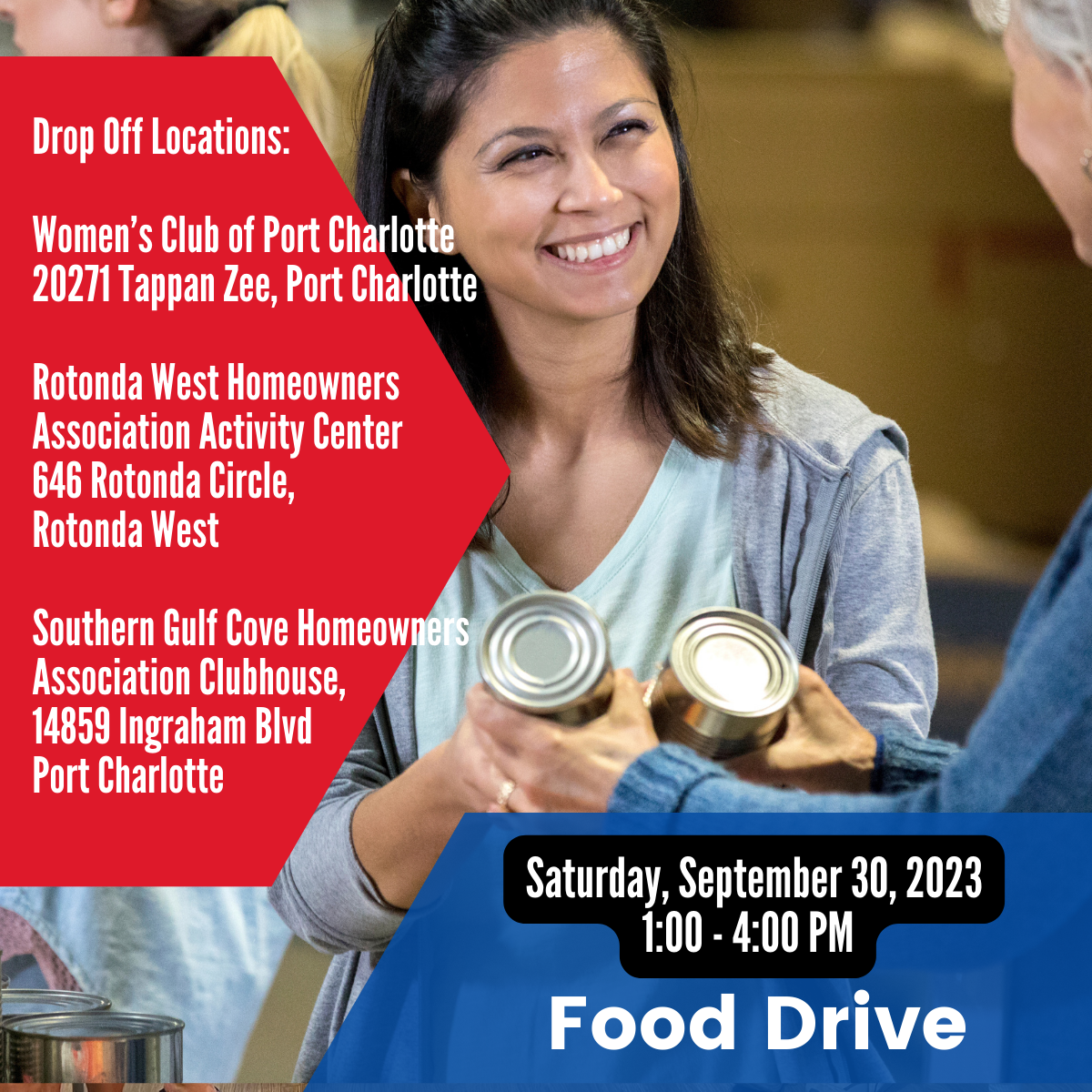 On Saturday, September 30, in Charlotte County and across the country, the General Federation of Women's Clubs (GFWC) will work together to Stamp Out Hunger and Food Insecurity. Charlotte County's three women's clubs will host a joint Day of Service to collect donations of non-perishable items.  
The event, which will include live entertainment and ice cream truck, will take place from 1 to 4 p.m. at the Women's Club of Port Charlotte, 20271 Tappan Zee Drive. Donations will support The Charlotte County Homeless Coalition, Back Pack Kidz and other Food Pantries throughout the county. 
What does Food Insecurity Mean? It means that people do not have adequate physical and economic access to sufficient, safe and nutritious foods. Hunger. Hunger is an individual-level physiological condition that may result from food insecurity.  "We know that in order for our school children and citizens, including the homeless, to thrive and be their best, they need good nourishment," said Beverly Hendrickson, GFWC Punta Gorda Woman's Club president. "With the community's help, we can make a bigger impact."  
Naturally, when Beverly reached out to me about this important event, I was inspired to learn the GFWC had chosen to dedicate their National Day of Service to helping end hunger. At United Way of Charlotte County assisting residents with basic needs, such as food and housing, remains our number one priority. Locally, approximately 19,000 adults and 5,200 children do not know for sure when their next meal will be. A staggering 34 million are facing this type of food insecurity in the United States. A percentage of these are hardworking individuals whose wages simply cannot match the cost of living. They are fighting to provide for their children and stay afloat.  
It can be hard to imagine choosing between rent and breakfast to start the day, but this is the experience of too many of our neighbors. It is a harsh reality that can be stamped out, but only with the generosity of others. Such generosity can be demonstrated through volunteerism like that of the GFWC members or simply donating what you are able. So, what can you give on Sept. 30? You can help, one can at a time.   
In addition to the event at the Women's Club of Port Charlotte, there will be two additional drop-off locations, Rotonda West Homeowners Association Activity Center, 646 Rotonda Circle, Rotonda West and the Southern Gulf Cove Homeowners Association Clubhouse, 14859 Ingraham Blvd., Port Charlotte.  
For more information on the food drive, Kathryn Gallagher at rwwckathryn@gmail.com or 610-952-1333. To learn about Who is ALICE in our community, visit https://www.unitedwayccfl.org/who-alice.  
For more information about United Way of Charlotte County's mission:  Mobilizing the power of our community to break the cycle of poverty, please contact Angie Matthiessen, Executive Director. She can be reached at director@unitedwayccfl.org.