Giving Tuesday, a global day of generosity, is November 29, 2022.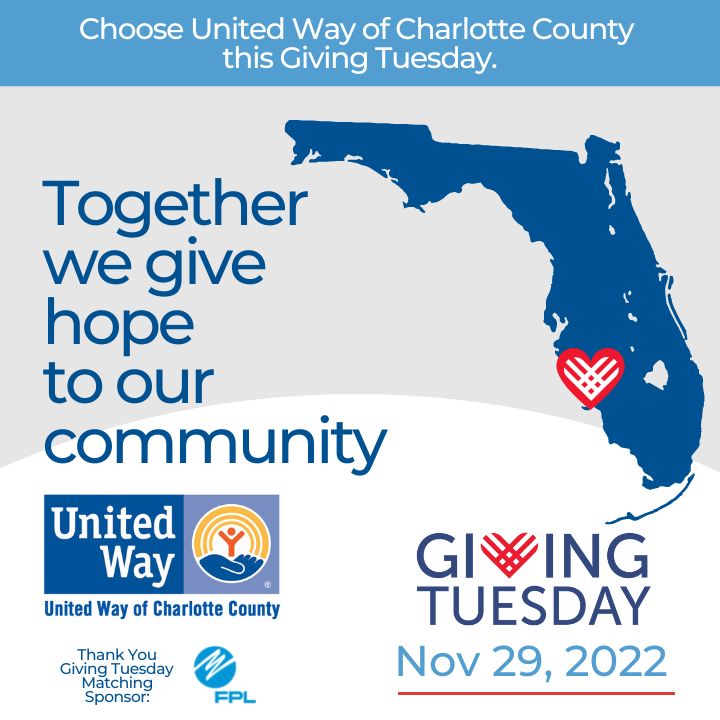 Giving Tuesday is a global movement that hits right to the core of what United Way stands for - uniting together for a common cause.
At United Way of Charlotte County (UWCC), we know that we are better together. We combine donations large and small for maximum impact in our community. When you support UWCC, your support echoes throughout Charlotte County.
Giving Tuesday is in its 10th year, and gaining momentum with each year. Last year, UWCC raised over $19,000 that helped to fund health and human service work that benefited your friends, family, and neighbors right here in Charlotte County. During this global effort, your local giving stays local. 
Together we GIVE HOPE so that our neighbors can GET HOPE.
Click here for information about becoming a Leadership Donor.
Matching Sponsor:
Your donation could be matched! Florida Power & Light has offered a $5,000 matching donation for Giving Tuesday 2022. When you give, your gift can be doubled by this incredible match!