Working Together to Build a Stronger Community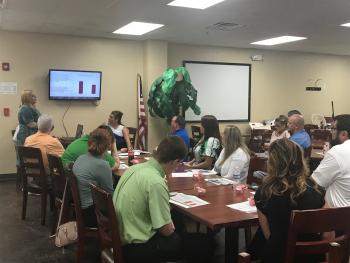 Have you ever wondered who decides how United Way of Charlotte County (UWCC) spends its money? As a community-driven organization, those decisions are made by people like YOU.
Each year during our funding cycle, local nonprofit agencies can apply for funding to help us reach a common goal of breaking the cycle of poverty in Charlotte County. Every program funded by our United Way is monitored, evaluated, and measured for effectiveness. In this way, UWCC validates that investments get results and make a difference where it matters most.
Panel volunteers represent United Way donors, clients and partners in the process of identifying and achieving the results necessary to address Charlotte County's most critical human service needs. Community Impact Panel Members review grant applications from local health and human service agencies and provide funding recommendations to United Way of Charlotte County's Board of Directors.
Panel members tour and review UWCC partner agency programs throughout the county. They review each program's written proposal materials, financial reports, and prior program evaluation reports, looking for alignment with United Way of Charlotte County's mission and the program's impact on Charlotte County residents.
Click here to see a list of our currently funded partners.
Become a Panel volunteer by completing the volunteer form here.