Uniting Your Generosity Today
with the Legacy You Choose
for Tomorrow
United Way Didn't Invent Fiscal Responsibility. We Perfected It.
You may know United Way best as a fundraiser with whom regular payroll deducted donations are popular. You may also know your United Way of Charlotte County (UWCC) has served our community for over 50 years. But did you also know we put non-profit agencies who request funds from us through a rigorous evaluation process conducted by volunteers from the community?   (Think of it as the Good Housekeeping seal of approval of the non-profit realm.)
Did you know the Charlotte County Board of Commissioners and the City of Punta Gorda rely on our recommendations as to how public funds should be used to support local non-profit agencies? And that we serve as the fiduciary and fiscal agent for these funds? That's because, year after year, our sole focus is fiscally responsible investing in Charlotte County.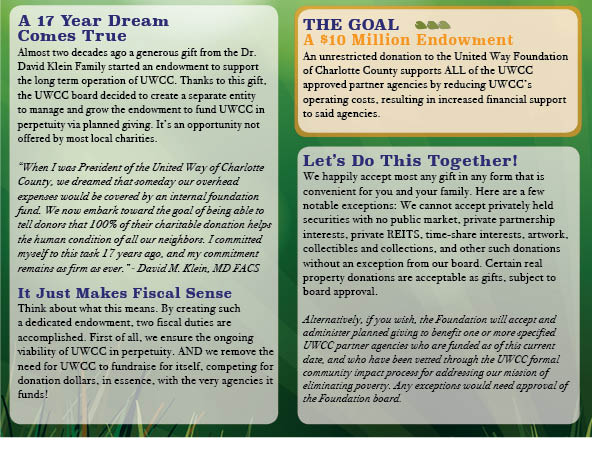 This is Win-Win Philanthropy
It's true that your gift will positively impact our neighbors and friends all throughout Charlotte County. But at the same time YOU are the hero of this enterprise, and we plan to treat you accordingly. We will design and install in a public area an appropriate memorial with name recognition at the following level of your choice: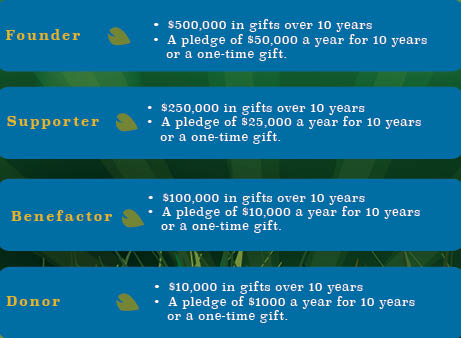 For more information, call United Way of Charlotte County (941) 627-3539.
"If the solicitation occurs on a website, the statement must be conspicuously displayed on any webpage that identified a mailing address where contributions are to be sent, identifies a phone number to call to process contributions, or provides for online processing of contributions."